LOCALLY GROWN.
RESPONSIBLY RAISED.
At GO Farms, we have the desire to be good stewards of God's provision through raising superior quality cattle (no hormones added) and to share with our customers the ability to eat locally grown, responsibly raised beef.
Shop our specialty holiday cuts before they're gone!
Regular price

Sale price

$78.00 USD

Unit price

per

Regular price

$170.00 USD

Regular price

Sale price

$170.00 USD

Unit price

per

Regular price

Sale price

$53.00 USD

Unit price

per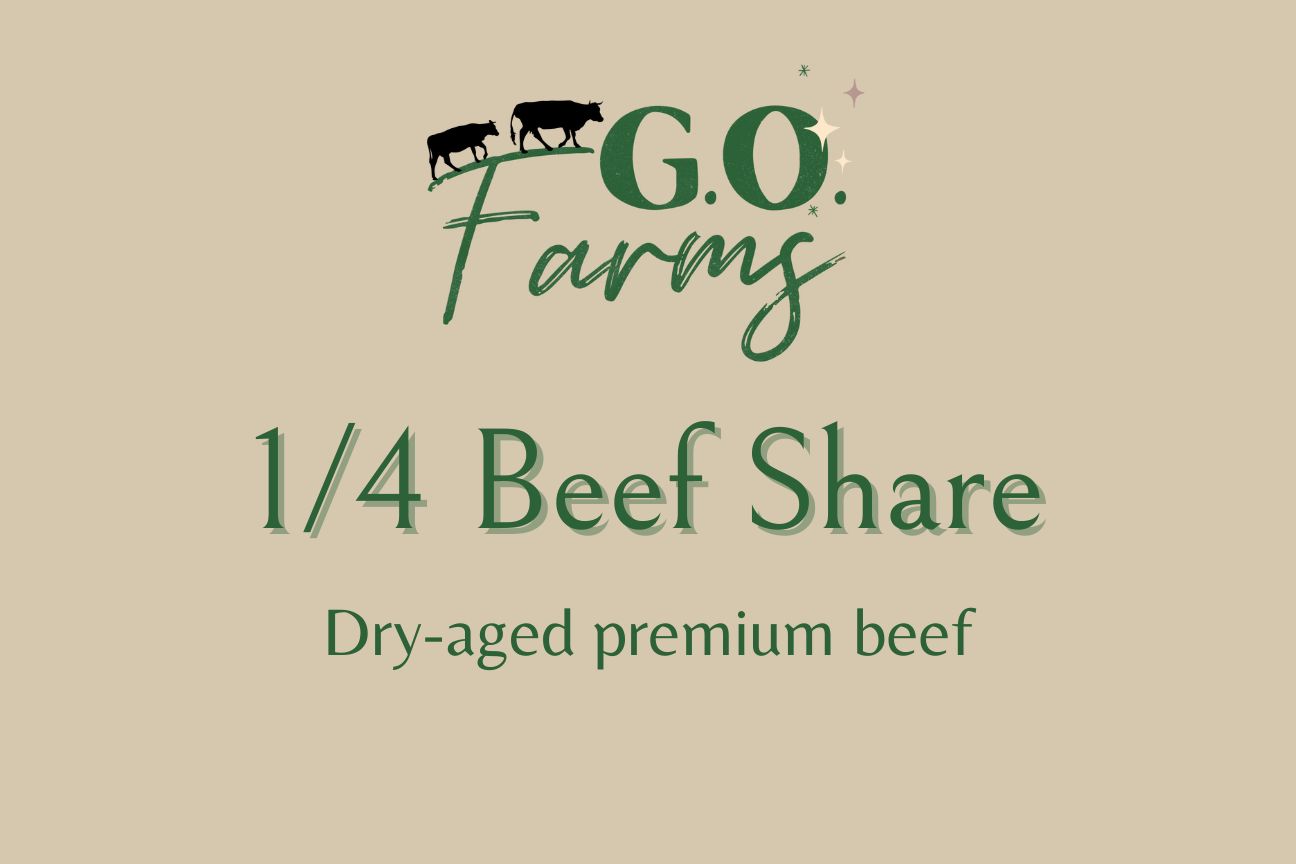 1/4 Beef Share (Deposit)
Regular price
$250.00 USD
Regular price
Sale price
$250.00 USD
Unit price
per
Sale
Sold out
Share
View full details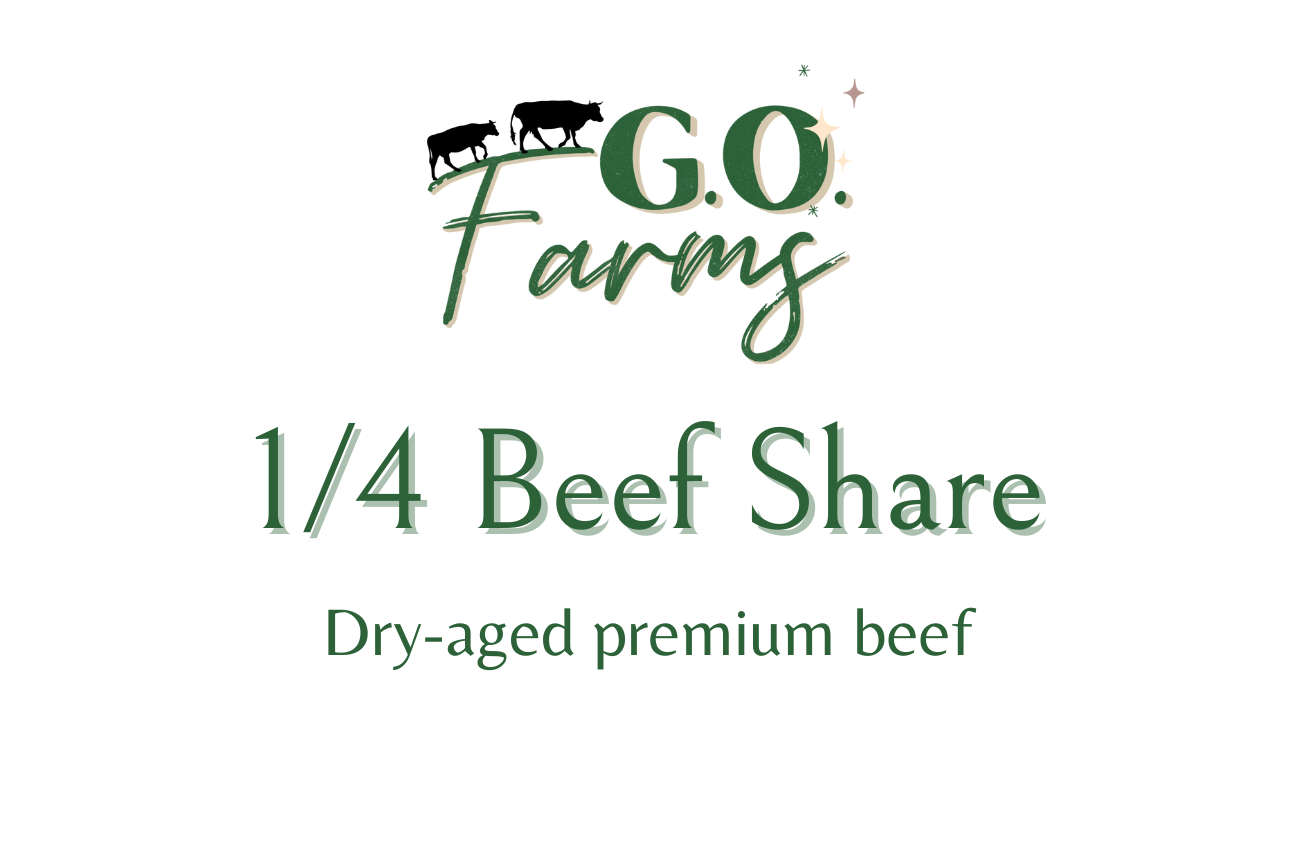 Best Tasting

"Best tasting meat ever and better than store prices!

- Patricia M.

Oklahoma Beef

"We've ordered our beef from GO Farms for the last 3 years. Just filled our freezer with a 1/2 beef last week. Check them out if you are looking for Oklahoma beef!"

- Keith H.

High Quality

"The beef is really high quality and the owners are our favorite people!" – John G.

Delicious

"Hands down - the most delicious meat!"

- Janna C.

The Best

"The BEST beef around!!!"

- Deedra D.
Frequently Asked Questions
Where are you located?

Our ranch is located in Medford, Oklahoma.
What Certifications does GO Farms have?

Beef Quality Assurance Certified

Oklahoma Department of Agriculture, Food Safety Division License Number: DCSW-453

Made in Oklahoma member

Oklahoma Cattleman's Association member
What do you feed your cattle?

Our cattle are pasture raised. They forage on natural grasses, winter wheatgrass, and are rotated on pasture to allow optimal grazing and care of the pasture. They are supplemented with protein cubes in the winter as needed.

Calves are born in pasture and with momma for 90 days. During this time of nursing, free water and forage are readily available.

Because our beef is pasture raised from birth to butcher, its primary source of food is grass. We are not a feedlot. We offer both grass and grain finished beef. We typically feed grain the last 110-140 days prior to butchering. Cattle become less efficient, less able to convert feed to muscle or meat, as they age. Grain contains more energy allowing cattle to maintain greater growth rates when compared to feeding only grass or forage.

However, grass finished beef is leaner, and studies show it tends to be richer in antioxidants and omega 3 fat. However, most experts now say the health value difference between grass and grain finishing is negligible.

The better question is, "how is this beef raised"? Because we raise locally in a sustainable, agriculturally and animal welfare conscious husbandry, you can know and trust that GO Farms beef is far superior to any chain grocer beef.

Each inventory item will be designated grass or grain finished. Grass finished is also called 100% grass.
Do you use added hormones?

As a part of our Herd Health Plan, we use biologicals such as vaccines to aid in the prevention of common viral and bacterial diseases. Weaning causes stress on calves. To mitigate the negative effects of this, we precondition the calves.

Preconditioning is a part of our Herd Health Plan and includes immunization against respiratory diseases prior to weaning and providing medicated feed consisting of roughage, minerals, and FDA-approved medication to prevent disease.

The use of antibiotics is very judicious. Therapeutic antimicrobial use is limited to sick or at-risk animals after other therapeutic options have been considered. No hormones to increase growth or size are used.
What is hanging weight and why are beef shares charged by it?

When talking about beef there are 3 weights to discuss.

Live weight, hanging weight, and final weight.

Live weight is the weight of the live animal prior to butchering, also called "on the hoof".

Hanging weight is is the weight the butcher determines and "hangs" after removing the head, hide, hooves, blood, viscera, lungs, and heart. Hanging weight is typically about 60% of live weight.

Final weight is the packaged take-home weight after the beef has hung for at least 14 days. During hanging the beef loses moisture weight of approx 4%. During the cutting process, bone, cartilage, and fat removal account for an additional 30-35% loss. Therefore, the final weight is typically 60% of the hanging weight.

We pre-sell beef shares based on the hanging weight because it is the most economical for the customer and owner and allows the customer to "custom cut".

Individual cuts are sold at a flat price. While beef shares are an upfront investment, in the end, you will be paying less than if you purchased each individual cut at a flat price.
How much freezer space do I need for a beef share?

A quarter beef fits nicely in a 5 cu. freezer. A side requires an 8-10 cu. ft deep freeze.
How is your beef products packaged / sealed?

Our beef is all vacuum sealed, allowing it to stay fresh longer.
Do you Deliver? If so, where is your Service Delivery Area?

Yes. Delivery is a specified option on some purchases. Check store inventory items for details. Contact us for specific requests.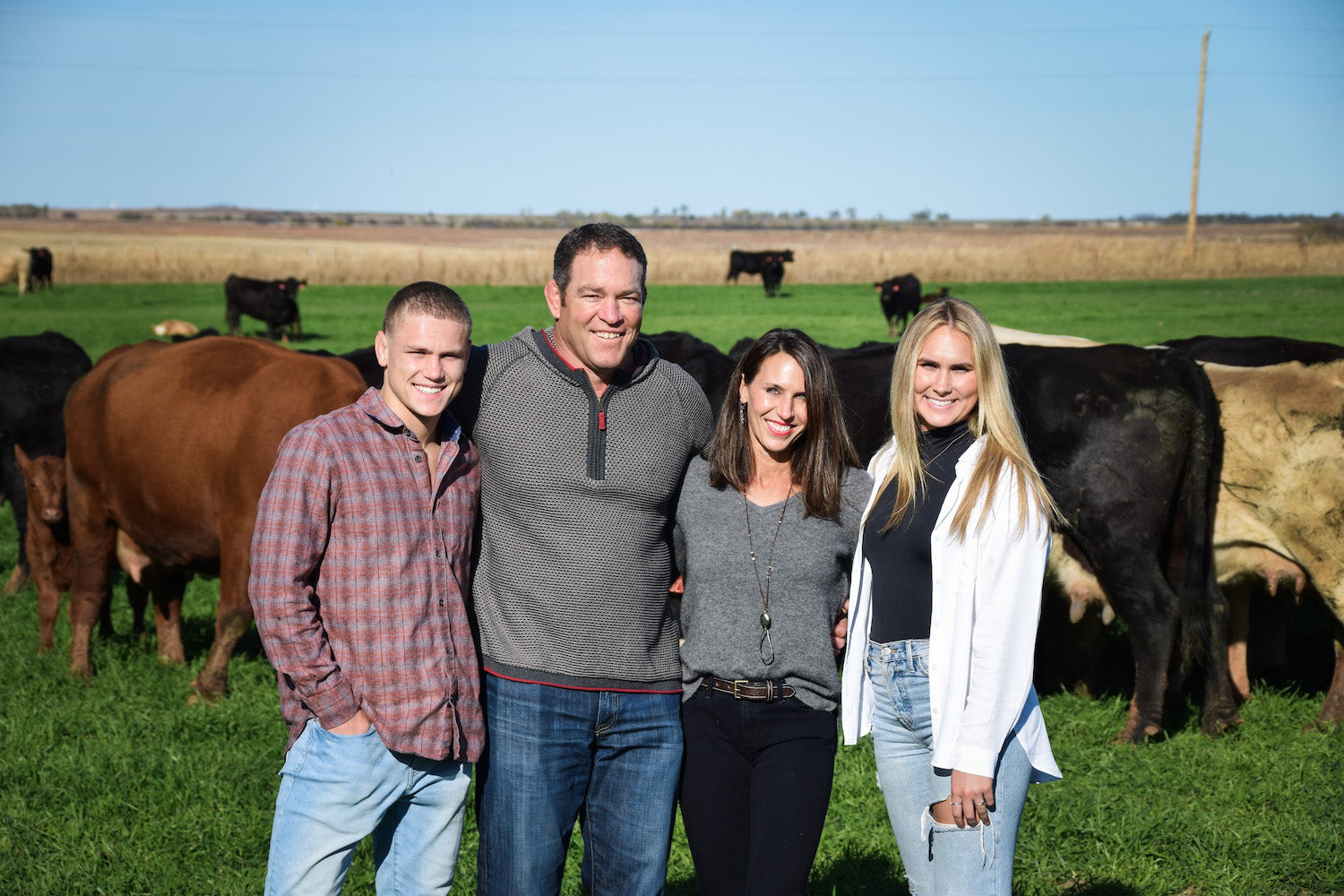 Who we are
GO Farms' managing partners are Greg and Darci Oplotnik - husband and wife - of Edmond, Ok. We have two grown children, Jaci and Jackson, who are first-time ranchers. Our very knowledgeable, hard-working, and conscientious farm manager is Jake Henderson.
Read our story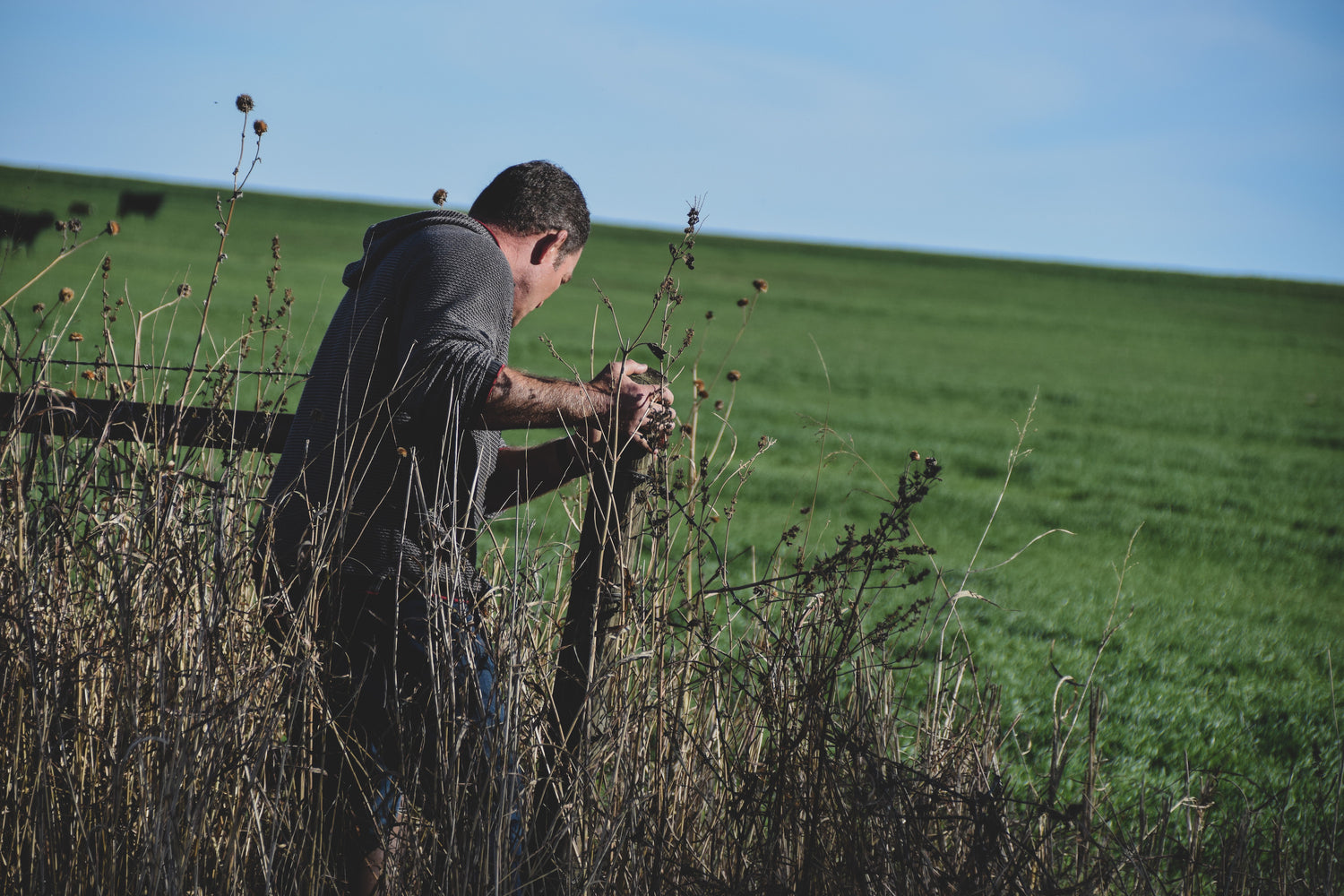 What we do
We have a herd preventative health vaccine program and nutritional program with a contracted veterinarian to minimize disease and unnecessary antibiotic use or animal suffering. Total quality management of our cow-calf operation involves culling breeding stock, proper cattle handling, mitigating biohazards, and humane euthanization of terminally sick or injured cattle.
Shop our beef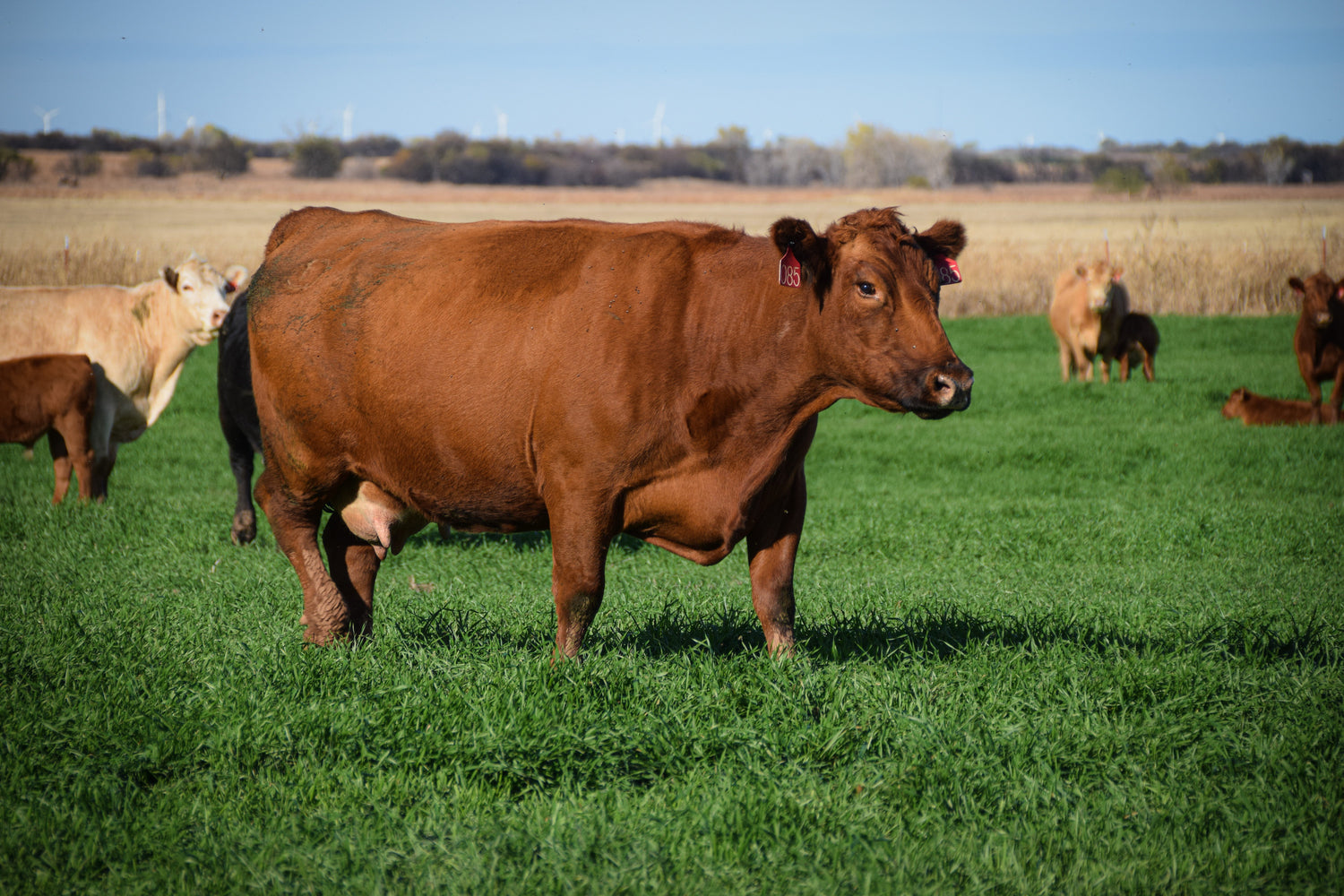 Raised in Oklahoma
GO Farms is proud to announce that we are a certified "Made in Oklahoma" product! All of GO Farms premium quality beef is Bred, Raised, Butchered & Processed right here in Oklahoma!
Learn more